Press releases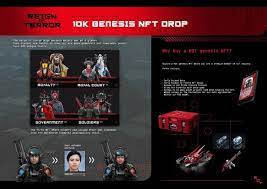 The Reign of Terror NFT Genesis Drop is Launching Soon
Don't Miss Out! Get Your NFTs to Play and Stake in the Virtual and Real Worlds of the RoT Mixed Reality Metaverse
Reign of Terror is pleased to announce its upcoming NFT Genesis Drop.
10,000 high quality 2D generative NFTs will be released in four different rarities as part of the NFT Genesis Drop:
Royalty (1%)
Royal Court Members (9%)
Government Bureaucrats (15%)
Soldiers (75%)
Holders of Genesis PFP (Profile Picture) NFTs can upload their own likeness to the above 'Leader' NFTs, which are considered very rare.
What is the Reign of Terror NFT Genesis Drop?
In the Reign of Terror Genesis Drop, the NFT not only represents a unique cyberpunk avatar, but also a virtual land in the RoT world. When a Genesis PFP NFT is staked in the game, the holder receives a land plot.

Players use NFTs (including heroes, units, equipment, blueprints, vehicles, land, and building systems) in all facets of the game to fulfill P2E missions while also earning from the DeFi mechanisms.
Land plays an extremely important role in Reign of Terror, and affects multiple systems in the game including harvesting resources for crafting, the power of your guild and alliance, and the DAO governance system. RoT may add a rental system to land later on based on community feedback to the first iteration.
High and VIP tiers at the top of the high tower are more valuable — since it has fresher air, richer minerals and proximity to the power at the top of the tower — than the free barren wasteland on the surface. Wealth can be built up through the land resources, and other NFTs.
What are the benefits of the NFT Genesis Drop?
In 2021, the trade volume in NFTs skyrocketed more than 262 times to $24.9 billion over 2021, with close to half of the 2.7 million unique active NFT wallets connected to NFT games. DeFi, SocialFi and mixed reality technology are main trends expected to drive future NFT gaming growth, and are all integral parts of the Reign of Terror NFT game. Through the NFT Genesis Drop, NFT gamers and investors have an opportunity to obtain RoT NFTs early.
Each NFT from the Genesis series can be used in the RoT Meta Pre-Game for staking quests that can net the holder special items used in Reign of Terror at launch (Q2 2022).
Additionally, each NFT holder has access to free land. Each tier has land properties owned by NFT holders, who have their own private building in the city and can build new facilities to help them win the game. The free land can also be staked in the game.
As a premium member of the RoT society, you also gain:
early access to the RoT Meta Pre-Game
early access to future NFT drops
access to our Alpha Discord Channel
Blind box airdrops within the meta-game

How to Enter the Reign of Terror Whitelist Campaign and Secure Your Spot
The NFT whitelist campaign provides all community members a fair chance of securing a chance of getting NFTs as part of the NFT Genesis Drop launch. Those who are active in the community will have a chance to get free NFTs!
The campaign is live on the Reign of Terror Discord channel. Invite 3 friends using your invite link to grab an NFT whitelist spot. Join our Discord Server, issue an invite code, or invite your friends to join the server directly from Discord. Stay tuned for our NFT Level Up, and other upcoming events.
For more details on upcoming Reign of Terror campaigns, join our Discord channel for the latest news and updates.
Use Your NFTs Today in the RoT Meta Pre-Game
No matter which status you finally obtain, you are already the holder of wealth in Orochi City. In the game, you can plunder the wealth of other gangs by teaming up with players, and be the first to upgrade in the game by developing your resource-rich land.
Each NFT from the Genesis series can be used in the RoT Meta Pre-Game for staking quests that can net the holder special items which can be used in the Reign of Terror game at launch.
Want to get one? Participate in the ongoing whitelist campaign and get whitelisted!
About Reign of Terror
Reign of Terror is a P2E blockchain game in a cyberpunk metaverse created to immerse players in a dystopian, futuristic world while weaving in graspable decentralized finance mechanisms. Get lost playing in a jaw-dropping new reality game where missions become investment-bearing activities!
RoT utilizes NFTs in every facet of the game as players fulfill P2E missions, while introducing players to DeFi mechanics as part of the gameplay, such as staking. SocialFi mechanics are also an important part of the gameplay with Guilds, Alliances, a DAO governance system and NFT lending system creating a seamless layer of blockchain beneath the skin of a cyberpunk realm.
Be ready to enter the cyberpunk metaverse. Follow Reign of Terror's official channels for the latest updates:
Website | Twitter | Announcement Channel | Telegram chat Group | Discord
This press release, which is published for information purpose only, has not been written by allcryptocurrencydaily.com.