Press releases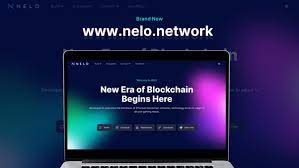 NELO Makes a Grand Entrance Into the World of Blockchain Technology
NELO is a protocol and infrastructure that is leveraging the Proof-of-Stake consensus algorithm to help developers deploy their games and Metaverse projects alongside Ethereum-compatible networks. GameFi and Metaverse driven, NELO began its journey with the launch of their new website on March 21st. Through this grand rebrand, NELO intends to offer the best experience for anyone trying to build a GameFi or Metaverse project.
Spearheaded by Walter Teo, CEO & Founder of NELO, the NELO team has rebranded NELO to create a blockchain that would provide users with the fastest and most reliable system in the crypto space for gamification and the metaverse.
Redirecting their efforts to bring NELO's game to life on the new blockchain – NELO Smart Chain (NSC) which is in the testnet phase and is set to launch its mainnet in September 2022. They want to show users what it feels like to use a blockchain designed for the metaverse rather than the other way around like other competitors.
As a matter of fact, the NELO's team is a group of driven creators who are enthusiastic about the future of GameFi and blockchain. These people are passionate about creating the best experience for anyone trying to build a GameFi or Metaverse project. The idea of rebranding NELO came from NELO supporters, and inspiration drawn from Changpeng Zhao, the CEO of Binance.
Many blockchains in operation today promise high throughput and low fees, but these were created before the blockchain gaming revolution. Therefore, they aren't built for the high usage of games. They are now unsuitable for providing high playability, a unique economic model, and a fascinating reward system.
However, NELO aims to solve this by using centralization validators and nodes to minimize fees and costs. They intend to establish a tie-up with existing games to build high-reliability nodes and facilitate a more decentralized approach.
Shawn Tan, Head Of Business Development and Marketing of NELO, speaks confidently about the innovative project:
"Here at NELO, we are ready to redefine the blockchain industry. Being the building block between the present and the future – to create one harmonious ecosystem"
NELO is a decentralized blockchain, designed to adapt to all gaming needs. It provides a protocol and framework for building and connecting blockchain networks compatible with Ethereum, thus eliminating the limitations of Ethereum blockchain networks.
Moreover, speed, security, and scalability are the priorities and principles of NELO. With NELO, developers can create and transform their vision into reality with no expense spared.
Neloverse
Blockchain technology is gaining traction among more sectors of digital interactions, including gaming. GameFi creates completely new economies where players can own assets, earn tokens, and trade them in marketplaces.
NELO also offers the first-ever GameFi-Metaverse oriented Blockchain, to seasoned and young developers and their users. NELO will be using the new blockchain – NELO Smart Chain (NSC), to build their game to demonstrate their product. To achieve this, NELO has secured a strategic partnership with a leading software and game development company to co-develop a new and exciting NELO metaverse game called Neloverse. This game will be a state-of-the-art game with a captivating game design.
In Neloverse, players and creators can decide their own game experiences and take the lead to monetize their creations within the game. Plus, NFTs will also play a significant role in Neloverse. Neloverse will also include a Game Maker software and players will be able to use VoxEdit to create their own voxel-based NFTs. Every character created will hold a unique place in Neloverse and NELO plans to partner with big fashion brands to create a whole new experience.
Gamers can own NFTs such as a LAND NFT – a digital piece of real estate in the gaming metaverse that players can purchase to build experiences. Once users own LAND NFTs, they will be able to populate them with games and assets. Plus, players can use the land for events like hosting a game, playing games on other players' lands, staking, or forming districts.
About NELO (NSC)
NELO is a protocol and framework for building and connecting Ethereum-compatible blockchain networks, eliminating the barriers of Ethereum blockchain networks. Speed, security, and the ability to scale are the priorities and principles of NELO.
For more information on NELO, refer to their brand new whitepaper set to be released shortly after their rebranding.
BSC Contract Address: 0xe38950f71e2d2fc4ca9dc9c3625d82560b0a5d8f
BSC Explorer: https://bscscan.com/token/0xe38950f71e2d2fc4ca9dc9c3625d82560b0a5d8f
NELO Smart Chain Explorer: https://analysis.nelo.network/
NSC Testnet dApp: https://nsctestnetdapp.nelo.network/
Social links
Website: https://nelo.network/
Twitter: https://twitter.com/NELOnetwork
Telegram: https://t.me/NELOnetwork
LinkedIn: https://www.linkedin.com/company/nelo-network/
Facebook: https://www.facebook.com/NELOnetwork/
Instagram: https://www.instagram.com/nelo.network/
Discord: https://discord.gg/NELOnetwork
This press release, which is published for information purpose only, has not been written by allcryptocurrencydaily.com.