Press releases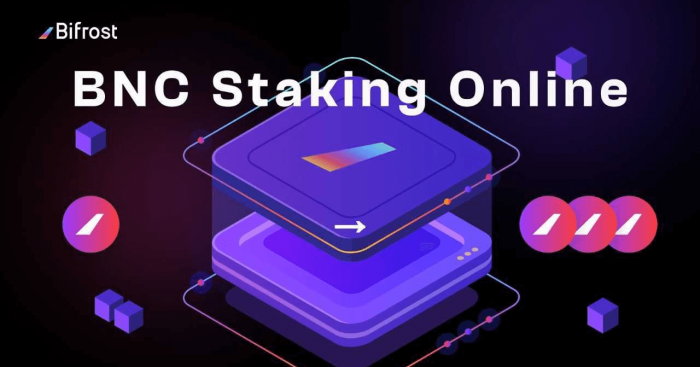 Following the Collator Mainnet Launch, Bifrost's Staking Amount Passes 2 Million BNC ($2.1m) at 16.2% Circulation
Bifrost launched its Collator Mainet reaching the staking amount of 2 million BNCs (Bifrost's native token) in less than ten days. Staking achieved 200% APY as the number of collators doubled. The current active collator set includes a diverse array of well-established and startup infrastructure companies such as IInfStones, HashQuark, Ryabina stakebaby, and staking4all.
Decentralization has always been the foundation of the Bifrost network. Launching the Collator mainnet means Bifrost can fully participate in transaction packaging and block collection achieved through the consensus between a parachain collator and the relay chain validator. Additionally, BNC staking promotes token flow within the ecosystem, hence adding an additional layer of value and utility for BNC holders.
The co-founder of Bifrost, Lurpis Wang commented: "We are excited to see this new milestone. Bifrost has rapidly accumulated more than $100M TVL since the launch of the parachain, and we are looking forward to Bifrost opening up more two-way cross-chain blockchains and promoting the development of StakeFi within the industry."
While becoming a Collator is recommended for those with a technical foundation, Bifrost underlines that the non-technical-native users can also participate through Delegator BNC staking within the Bifrost dapp. BNC token holders can now nominate and stake directly with the active Bifrost Collators. With the minimum entrustment of 50 BNC, Delegators receive staking rewards once a block is completed. It is a first-come-first-served game as only the first 300 Delegators per Collator are rewarded, so Delegators should aim to entrust their tokens to the less saturated nodes.
As Bifrost overachieves on its Q1 Collataor Mainnet goals, the future of staking liquidity looks bright. Bifrost claims Q2 will be a historical quarter, in which Bifrost's SLP (Staking Liquidity Protocol) will go live on the mainnet. With the mission to provide standardized cross-chain staking liquidity derivatives, Bifrost creates a three-way positive cycle for the StakeFi economy by empowering users, multi-chains, and ecosystem applications.
About Bifrost
Bifrost is a web3 derivatives protocol that provides decentralized cross-chain liquidity for staked assets. By leveraging on the cross-consensus message (XCM) it can provide cross-chain liquid staking services for multiple chains. Bifrost's mission is to provide standardized cross-chain interest-bearing derivatives for Polkadot relay chains, parachains, and heterogeneous chains bridged with Polkadot. By aggregating over 80% of PoS consensus chains' staking liquidity through cross-chain derivatives, lowers users' staking threshold, increases the multi-chain staking ratio, and improves the application of the ecosystem interest base, by creating a three-way positive cycle for the StakeFi ecosystem by empowering users, multi-chains, and ecosystem applications.
Bifrost raised over USD 2M from top-tier venture capital firms by the likes of NGC, SNZ, DFG, CMS, and other institutions. In addition to being an early recipient of a Web3 Foundation Grant, Bifrost is also a member of the Substrate Builders Program and the Web3 Bootcamp.
For any media inquiries to Bifrost, please contact krystyna.kozak@eakdigital.com
Contact:
For all media inquiries regarding this release please contact Krystyna: krystyna.kozak@eakdigital.com
Telegram: @krystynakozak
This press release, which is published for information purpose only, has not been written by allcryptocurrencydaily.com.