Press releases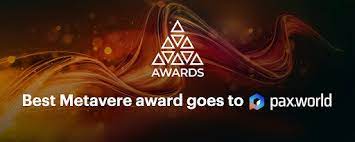 Pax World Won the AIBC Asia Award in Dubai, Beating Decentraland and The Sandbox
Pax.world secured first place in this year's AIBC award, leaving behind globally renowned names of the industry, such as Decentraland, and The Sandbox.
AIBC 2022
The world's leading expo for blockchain AI kicked off on the 20th of March, and the first titles have been awarded already. AIBC is a world-famous event that brings together the top players of the crypto sphere, which makes its recognition an important achievement for any project. The evaluation's points of contestants likely included novelty factor, execution, future potential, as well as the current state. The award of 2022, for which industry-leading players, such as Decentraland, and The Sandbox, were also competing, was granted to pax.world.
About pax.world
Pax.world is a vast metaverse that offers immersive experiences for its members. Users have the chance to buy and own digital items within this virtual reality while fostering their social network by participating in various events, meetings, and other interactions. Pax.world unlocks opportunities for individuals and businesses alike with innovative features such as virtual business headquarters, educational venues, online concerts, and remote team building.
To empower the community, the governance of pax.world will be decentralized, where holders of $PAXW crypto tokens will be able to directly control the metaverse via their votes.
What's Coming?
After the first demo day of the metaverse, and the launch of virtual land pre-sale, pax.world aims to open public land auctions in April 2022, as well as host its second demo day for interested users. The main milestone of the project is set to happen in June 2022, when pax.world will be launched after the IDO and IEO of $PAXW.
To learn more about the project, visit their official website, where all the related updates, figures, roadmap, and team are showcased.
This press release, which is published for information purpose only, has not been written by allcryptocurrencydaily.com.