Press releases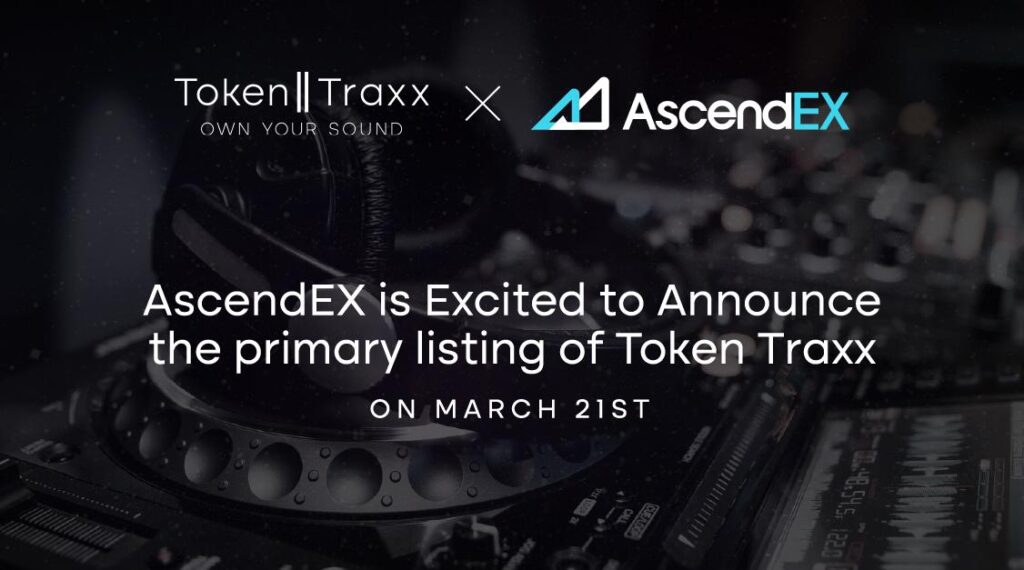 AscendEX Lists Token Traxx, TRAXX
AscendEX is excited to announce the listing of the Token Traxx token (TRAXX)! Trading will begin under the trading pair (TRAXX/USDT) starting on Mar 21st at 1 p.m. UTC.
Music fans and cryptocurrency enthusiasts will be able to engage and support their favorite artists through Token Traxx in a variety of ways while sharing the profits generated by these artists. By utilizing the Blockchain technology and NFTs, the platform will be able to tokenize individual tracks and albums, as well as the tracks curated into playlists in the same way as Spotify, but uniquely commoditized.
In the music industry's evolution, music creators, curators, and collectors have an intricate and symbiotic relationship. Through the integration of NFTs, Token Traxx allows these different roles to work and profit together. Unlike other NFT projects, Token Traxx focuses exclusively on the music industry and its community.
It is possible to customize the platform experience by browsing music by artist, genre, playlist, and geographic location. To encourage its usage during live events, the platform is designed with a mobile-first approach. With the platform's UX, users can discover music just as easily as Spotify and purchase and trade digital assets with users around the world.
Token Traxx is explicitly designed to leverage the power of Blockchain technology. Blockchain technology provides NFT with rarity and functionality across many aspects of the music industry. As NFTs are based on smart contracts, they provide creators with more flexibility in interacting with their fans. These customizable NFTs can be traded with other fans all over the world. Additionally, NFTs can be geocentric, allowing creators to host NFT auctions at specific live events. Direct transactions on the blockchain are securely accounted for, allowing for precise divisions of royalty payments to NFT holders.
The platform has been built with a team of executives and leaders from some of the greatest and most successful record labels and streaming services in the world. TommyD, a team member and music industry heavyweight had this to say about the project, "Token Traxx has the opportunity to set a new precedent at the nexus of blockchain and music, most notably around songwriting and performance royalties which have traditionally been significantly lower than those of master rights holders. We are setting the stage to redefine the industry."
The TRAXX token will be used to pay transaction fees for NFTs purchased on the platform. This will also provide holders with extra benefits and can be used as an incentive for the platform rewards program. More utility functions will be added as the platform grows. Token Traxx is currently exploring DeFi use cases, such as staking, lending protocols, platform governance, and enabling streaming services.
About AscendEX
AscendEX is a global cryptocurrency exchange with a comprehensive product suite including spot, margin, and futures trading, wallet services, and staking support for over 200 blockchain projects such as bitcoin, ether, and ripple. Launched in 2018, AscendEX services over 1 million retail and institutional clients globally with a highly liquid trading platform and secure custody solutions.
AscendEX has emerged as a leading platform by ROI on its "initial exchange offerings" by supporting some of the industry's most innovative projects from the DeFi ecosystem such as Thorchain, xDai Stake, and Serum. AscendEX users receive exclusive access to token airdrops and the ability to purchase tokens at the earliest possible stage.
To learn more about how AscendEX is leveraging best practices from both Wall Street and the cryptocurrency ecosystem to bring the best altcoins to its users, please visit www.AscendEX.com.
For more information and updates, please visit:
About Token Traxx
Token Traxx aims to become the leading portal to allow music fans and cryptocurrency enthusiasts to engage and support their favorite artists in various ways while sharing the financial returns generated by these artists. The platform will do this by tokenizing individual tracks and albums in addition to music curated into the form of playlists, similar to those found on Spotify but uniquely commoditized using Blockchain technology and NFTs.
For more information and updates, please visit:
This press release, which is published for information purpose only, has not been written by allcryptocurrencydaily.com.