Press releases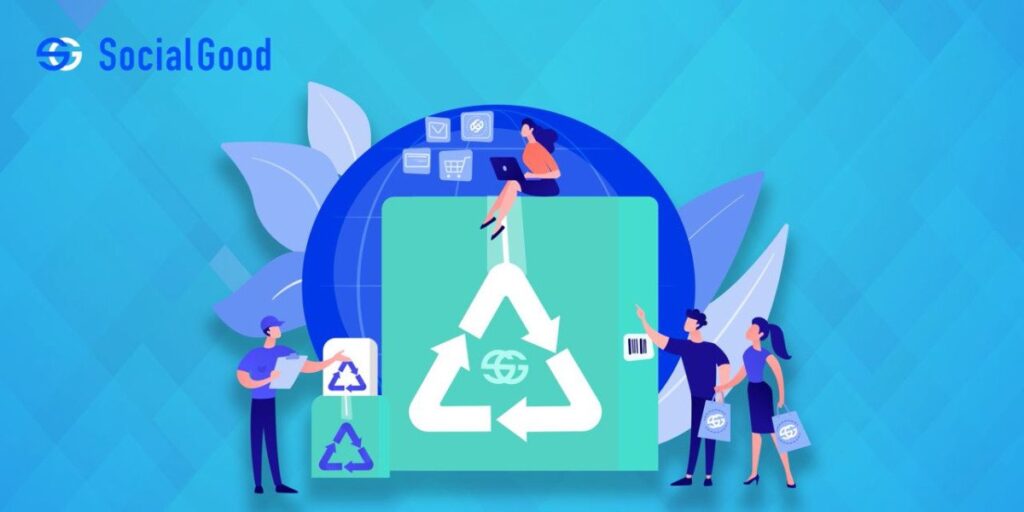 SocialGood Focused on Sustainable Shopping 
What is sustainable shopping?
Sustainable shopping recognises that everything we buy has health, environmental, and social impacts. In brief, it is your chance to support what is important to you and avoid products and services that don't align with your belief. There are many reasons to shop sustainably, including benefits to yourself and others, and the environment.

With SocialGood, the aim and potential lies in revolutionizing capitalism as we know it today. All of the SocialGood Projects actions are based on their belief in making society better by providing consumers with assets for free, and aim on improving their lives. In the SocialGood Ecosystem ™ , the more users purchase products, the more assets increase and at the same time these users contribute to society. As of January 2022, more than 1.6 million users have joined the app since the launch of the app in September 2020..

According to AMB Crypto, companies such as Alibaba, eBay, Lazada, Nike, and Booking.com have joined this ecosystem and in total partnerships have been secured with over 1,860 major companies internationally as of the end of May 2020.
LUCKY REWARD LOTTERY
At the beginning of March, the SocialGood App introduced a campaign where you stand a chance of winning up to 100% Crypto Back Rewards with their Lucky Reward Lottery when you shop at AliExpress.

Every time you purchase something at AliExpress via the SocialGood App, you will be automatically entered into the Lucky Reward Lottery to earn back one of three possible reward rates, selected at random each time.
Crypto Back Reward Rates from the Lucky Reward Lottery:
#1: Earn 100% of your total purchase as Crypto Back
#2: Earn up to 6.5%* of your total purchase as Crypto Back
#3: Earn up to 3.2%** of your total purchase as Crypto Back
With a one-in-three chance*** to earn back up to 100% of your purchase as SG, you can't miss the chance to practically shop for free. There is no limit to the number of times you can enter, so shop as many times as you like for more chances to win up to 100% Crypto Back. You receive your Crypto Back rewards in SG. The more SG you hold, the more staking rewards you will earn (up to 15% APY awarded every six hours).
As of 2 March 2022, the SocialGood App has raised $14.2 million in Series A funding from a venture capital firm. Survey data currently show that there are 5 billion mobile users in the world, and 55% of them want rewards or cash back when they shop online. On the other hand, the 24-hour exchange volume in crypto exceeded $100 billion in February 2022. Thus the business model of rewarding in crypto may seem like an obvious way to go, but Social Good Foundation Inc. has proven that innovation with its 68 patents related to the Crypto Back business model. Additionally the crypto market is growing tenfold every two years so it can be anticipated that SocialGood App's global market will grow to around 550 million people in the next two years.
In anticipation of this growth, Miyako Capital has invested $14.2 million in Social Good Foundation Inc. This is the largest equity finance investment ever to be raised by a crypto issuer headquartered in Japan****, and the very first funding for Social Good Foundation Inc.
*Check the app for the detailed Crypto Back reward rates for each "Product Department" in the AliExpress details (link only valid if you have the SocialGood App installed). Note that the listed rates are the "#2" rates. The "#3" rates will be 1/2 (50%) of the listed rate.
**This is not a guarantee that users will win the 100% reward once every three entries.
***According to a search of previous equity funding for companies headquartered in Japan (including those with offshore subsidiaries as the crypto issuers). Search was conducted by Social Good Foundation Inc., on the startup information platform INITIAL.
*****In this article, the total is calculated as $14.2 million USD at the rate of 100 JPY = 1 USD.
The SocialGood App is available on iOS and Android
For more information on the SocialGood referral program, follow this link.
To receive the latest information of the SocialGood App, follow their official social media:
Official Twitter: https://twitter.com/socialgood_inc
Official Telegram: https://t.me/SocialGood_io
Official Facebook: https://www.facebook.com/socialgoodinc/
Official Instagram: https://www.instagram.com/socialgood.app/
This press release, which is published for information purpose only, has not been written by allcryptocurrencydaily.com.