Press releases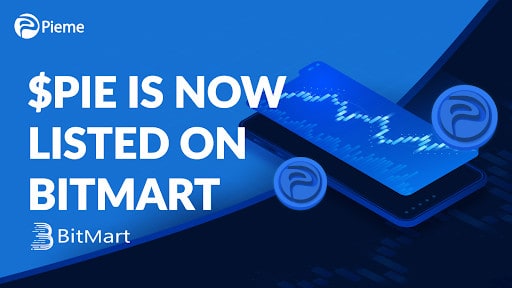 Pie Token Is Now Listed on Bitmart
We're thrilled to announce that you can now find PIE on Bitmart.
We have listed on our first crypto exchange and you can now trade your PIE on Bitmart.
Our token was also audited by Haken to ensure the security of the Pie token.
To align all of these things, as you may know already, we've had an IDO sale to make PIE more available to everyone.
Now that we're also on Bitmart, you can trade your tokens or use them on our app.
Even new people joining our project can get PIE and start taking advantage of all of the benefits and features thanks to the listing.
Built on the Binance Smart Chain, the Pie Token is a crypto payment option that will be used to pay for services on Pieme, such as paying for meals, booking event tickets, advertising fees, and any other fees and transactions on the platform.
The PIE token, on top of its many benefits, can now also be traded. It makes home-cooked meals available at a cheaper price, since it's not centralized and there's no intermediaries. Both people passionate about cooking, and people who appreciate home-cooked meals can enjoy Pieme.
You can also read in detail about the PIE token utility.
We're accomplishing new things, slowly but surely, making sure everything goes smooth and well-done.
Let's see what else is to come after our IDO sale, listing on Bitmart, etc.
Join our journey and satisfy your food cravings.
Find people to cook for, to eat with, and to make you company.
About Bitmart
BitMart Exchange is the premier global digital assets trading platform with more than nine million users worldwide and ranked among the top crypto exchanges on CoinGecko. Currently offering 850+ trading pairs with one of the lowest trading fees in the industry, they are a constantly evolving and growing platform.
About Pieme
Pieme is a decentralized social platform that connects people to authentic home-cooked local dishes. Meals are prepared by individuals from their homes, then offered to people in the communities around them. The platform aims to have people connect through their shared love for authentic home-cooked local food.
This press release, which is published for information purpose only, has not been written by allcryptocurrencydaily.com.