Press releases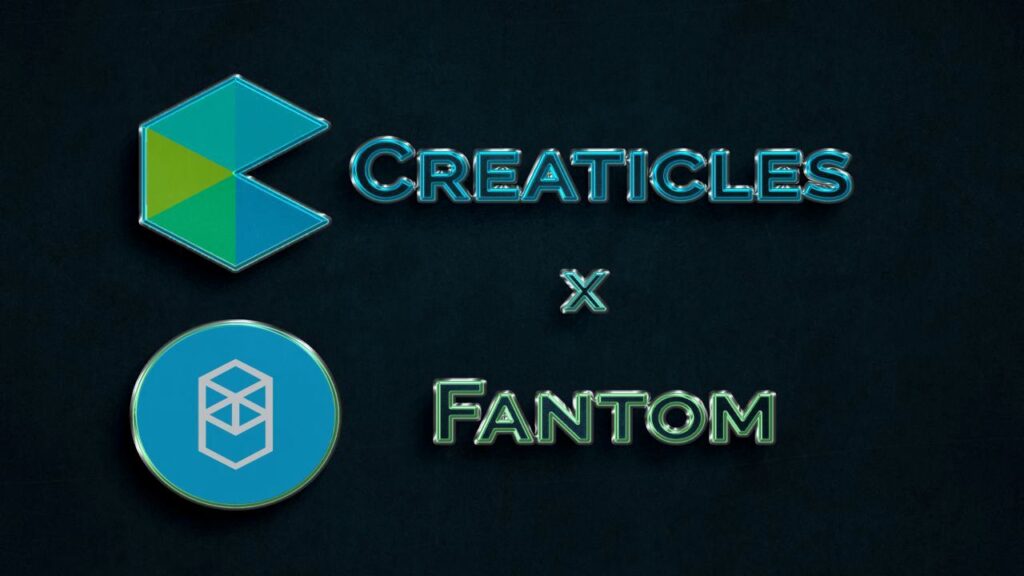 Custom NFT Marketplace Creaticles ($CRE8) Announces Fantom Integration as Part of Multi-Chain Expansion
Creaticles ($CRE8), the world's first NFT Requests Marketplace matching NFT buyers to its roster of verified global artists, has today announced a collaboration with Fantom Foundation. The integration on Fantom, one of the fastest growing layer-1 blockchain platforms, represents the first step in Creaticles' multi-chain expansion plans, and the platforms will join forces to launch the world's first crowdsourced NFT collection.
Creaticles will be collaborating with Fantom Foundation over a series of crowdsourced PFP NFT contests, commencing with 'The Fantom Ghouls PFP NFT Contest'. Using Creaticles' Request for Proposal (RFP) contest model, Fantom will call on its community and Creaticles' roster of verified artists to design a custom Fantom ghost PFP, introducing and onboarding talented NFT artists to the Fantom chain, while creating an NFT collection that will allow supporters to be immediately identifiable as Fantom fans. Upon receiving submissions, the winning artists will be remunerated in up to $700 from a prize pool of $4,100 worth of FTM, Fantom's native token, into their FTM wallets.
The second stage of the collaboration will focus on the 'Fantom Ghouls Assets Contest', designed to crowdsource the assets to be randomized onto the base PFP chosen in the previous contest. This will include assets such as mouths, hats, eye accessories, objects being subject to telekinesis by the ghoul, and more.
The remit of the collaboration will also see the establishment of a new staking/farming pool for CRE8 – Creaticles' native utility token – on Fantom Decentralized Exchanges. To date, Creaticles has successfully conducted bespoke NFT contests for top crypto brands such as Axie Infinity, Harmony, MakerDAO, Polygon, Mask Network, FirstBlood, and Pangolin.
Jonathan Chen, Creaticles Head of Operations said: "Today's announcement represents another strong seal of approval for our unique value proposition, and will help us showcase our Creaticles contest format to a wide range of companies within the Fantom community. The surge in demand for high quality NFT art shows no signs of abating, and we want to help crypto projects strengthen community engagement through dynamic contests, while placing NFTs at the heart of the ongoing Creator Economy boom."
Michael Kong, CEO and CIO of Fantom Foundation said: "Fantom is looking forward to seeing Creaticles build and develop on the network. We look forward to an exciting pipeline of activity together commencing with these upcoming contests."
The news follows the recent high profile additions to Creaticles' Advisory Board, Jeff Jiho Zirlin, Co-Founder of Axie Infinity; Sébastien Borget, COO and Co-founder of Sandbox; Joe Zhou – Co-Founder and CEO of FirstBlood; Juergen Hoebarth, seasoned blockchain consultant and Founder of NFT.Art; and Kenny Li – MIT Sloan graduate and cofounder of Manta Network.
Creaticles has experienced rapid growth since its testnet launch in August 2021, and was selected as one of eight of the most promising projects in CoinList's Seed batch for Fall 2021, out of a field of over 500 crypto projects. Following its mainnet launch in November 2021, the company raised $3.8 million USD in IDO on SushiSwap (MISO) – investment that will be used for team expansion and marketing activities.
CRE8, Creaticles' native utility token, has multiple utilities across payment for art and premium placement, governance voting, rewards for commission collected, as well as staking. CRE8 is currently listed on Sushiswap, Gate.io and MEXC, with more exchange listings earmarked for Q2 and Q3 2022. The company is also preparing for its multi-chain expansion in Q2.
For the latest information on the Creaticles roadmap and to join the official Discord and Telegram channels, use the following link: https://linktr.ee/Creaticles
About Creaticles
Creaticles is the blockchain industry's first custom NFT request platform that connects businesses and individuals with creators. Any enthusiast with an idea can request custom NFTs, and the artists who bring those ideas to life get to build their reputation and earn rewards via cryptocurrencies. Users can engage in various contest modes to ensure their requests for NFTs  — such as memes, logos, games, and web assets  — are minted as requested. For more information on Creaticles, please visit Creaticles.com
About Fantom
Fantom is a high-performance, scalable, and secure smart-contract platform. It is designed to overcome the limitations of previous-generation blockchain platforms. Fantom is permissionless, decentralized, and open-source. Fantom's aBFT consensus protocol delivers unparalleled speed, security, and reliability. Enjoy fast transactions, low fees, and an intuitive development environment.
This press release, which is published for information purpose only, has not been written by allcryptocurrencydaily.com.