Press releases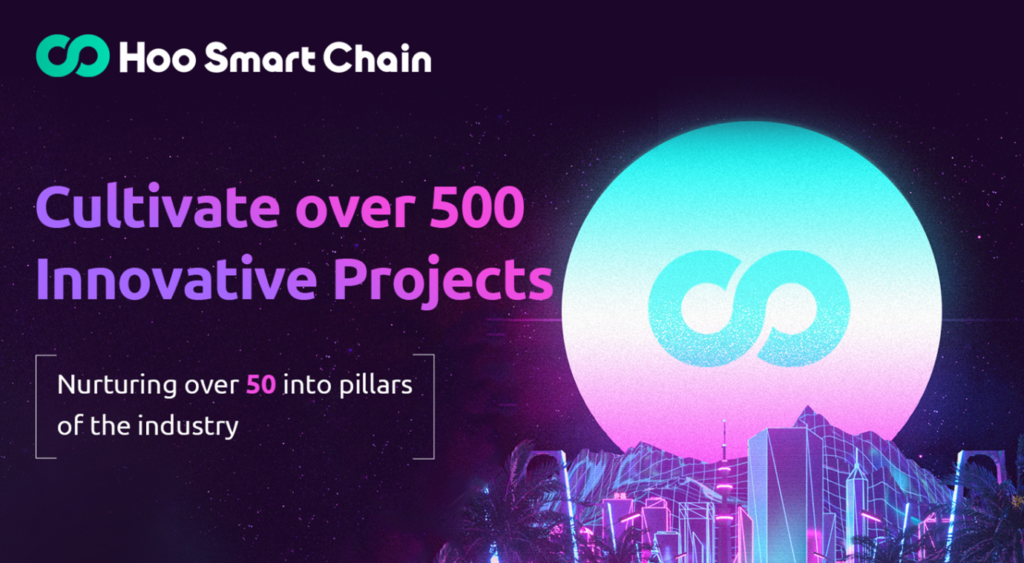 Hoo Smart Chain "Cosmic Origin Project" Nurtures Ecological Growth
Hoo Smart Chain has launched "Cosmic Origin Project", following the footsteps of several other blockchain ecosystems. HSC will incentivize and focus on projects that can bring liquidity and more activity, whilst broadening the utility of the HOO token. After cultivating a vibrant ecosystem, Hoo Smart Chain's longer-term goal is to build a visual metaverse.
Introduction
The blockchain industry has been transformed from a single dominant monolith that is Ethereum to blossoming into several vibrant ecosystems. In the past year, new high performance blockchains such as Avalanche and Fantom have launched with attractive reward programs and subsidies, attracting developers and users alike.
Hoo Smart Chain was launched in May 2021, will launch it's own "Cosmic Origin Project" after completing its infrastructure. The rewards are divided into four schemes: projects on-chain Total Value Locked (TVL) rewards, NFT and GameFi projects transaction volume reward, Cross-Chain Portal reward, and HOO Staking Bonus rewards.
Developers can go to the official website https://www.hoosmartchain.com to learn more about the Cosmic Origin Project, or register directly at http://hk.mikecrm.com/NtPoo5v. Developers are also welcome to discuss and exchange development ideas at the official developer Telegram Group https://t.me/HooSmartChainDeveloperGroup. Hoo Smart Chain will provide all qualified projects suitable amount of Gas fee support for testing and development.
Hoo Smart Chain "Cosmic Origin Project" is dedicated to a vision of decentralizing many aspects of daily life, to further the development of decentralized applications that will change the future. Registration is open to all projects, including but not limited to DEX (Decentralised Exchanges), lending, insurance, aggregators, derivatives, synthetic assets, fixed Interest instruments, algorithmic stabcoin protcols, NFT projects, GameFi, SocialFi, Metaverse, Layer 2 technologies, LaunchPads, etc.
On March 9, Hoo Smart Chain officially launched "Cosmic Origin Project", developers around the world can sign up through the following channels: website, posters and twitter. The Cosmic Origin Project rewards will be activated once the number of registered projects reach 60. The first phase of the project will last half a year from the date of activation. The second phase will be announced during the second half of 2022. All projects will deploy and come online on Hoo Smart Chain at two fixed time slots each month.
In an previous AMA, Hoo Smart Chain talked at length about visualising blockchains, the metaverse, and the core value of creating a positive sum game. Adhering to the concept of "breakthrouhs and innovation", Hoo Smart Chain will provide effective real world solutions and innovative development logic for the growth and improvement of the blockchain ecosystem. With the launch of "Cosmic Origin Project" Hoo Smart Chain working is looking forward to working with developers around the world to open up a new direction in the blockchain industry.
Hoo Smart Chain "Cosmic Origin Project" nurtures on-chain applications
The blockchain landscape has gradually changed, from the monolithic dominance of Ethereum, various new high performing players have come into the fray and have created vibrant ecosystems of their own.
In the past few years, several emerging blockchains have introduced incentives to boost their appeal, including Ethereum side-chain SKALE, with a $100 million ecosystem incentive plan. Kava Network launches「Kava Rise」, a $750 million on-chain developer incentive program designed to bring innovative developers from the DeFi, GameFi and NFT to the Kava Network. Earlier, Polygon, Avalanche, Fantom, NEAR, and others have each launched a multi-billion dollar on-chain reward system, and almost with certainty, these rewards have improved on-chain activity growth of the ecosystem.
Hoo Smart Chain has also recently launched a reward program to promote ecological prosperity after deploying it's mainnet during May last year. More details for the "Cosmic Origin Project" can be found on the Hoo Smart Chain official website.
The rewards are divided into four schemes: projects on-chain Total Value Locked (TVL) rewards, NFT and GameFi projects transaction volume reward, Cross-Chain Portal reward, and HOO Staking Bonus rewards.
The TVL reward plan is for all on-chain projects, Hoo Smart Chain Foundation will calculate the net TVL of each project in USDT and the reward is based on defined TVL tiers.
Hoo Smart Chain has created a rewards calculator on its official website to make it easier for project partners to calculate their awards. For example, If a project achieves 1 million USDT TVL based on random monthly snapshots, it will receive a standard basic award A of 10,000 USDT. If the project's TVL continues to maintain a TVL of 1 million USDT for the following month, it will be eligible for a continuous monthly award B of 4000 USDT. The amount for standard basic reward A and monthly continuous reward B increase through each TVL tier.
About "Cosmic Origin Project" reward estimation
The transaction volume reward is mainly aimed at GameFi and NFT on-chain projects. It is also based on a standard basic reward A and monthly continuous reward B .
For example, an NFT project with a monthly transaction volume of more than 5 million USDT will receive a basic bonus of 6,000 USDT. If they maintain this transactional volume the following month, they will receive a continuous bonus of 3000 USDT.
Cross-chain bridge reward is primarily designed for cross-chain projects such as the Hoo Smart Chain on-chain projects or cross-chain transaction protocols. For example, if the monthly transaction volume of a cross-chain bridge project reaches more than 1 million USDT, it will be rewarded with 2,000 USDT.
The HOO staking reward is designed to provide additional incentives for projects that expand application for the HOO Token. Apart from the award A and B above, this part of the award will provide additional awards based on the number staked HOO. For example, if the TVL of a project reaches 1 million USDT with staking more than 100,000 HOO in the project, except the standard award A of 10,000 USDT, the staking HOO bonus will be 10%. The bonus also applies to the monthly continuous award B. The bonus can increase for each tier, with up to 30% bonus after 1 million HOO staking and a 100% bonus for the highest level.
According to the Hoo Smart Chain website, "Cosmic Origin Project" will accept applications on March 9th and will continue to be open to developers worldwide to sign up through website, posters and Twitter. "Cosmic Origin Project" will be activated until it has 60 applied projects. The first phase will last six months and the second phase will be announced later this year. After the program is launched, all deployed projects will be online at two fixed time slots each month. Currently a project can register through the link on the official website. Hoo Smart Chain community leader said that one person goes fast, but many ones can go further together. " We want to provide the project with the right environment to realize its potential and foster an innovative ecosystem together."
Hoo Smart Chain promotes the construction of the metaverse blockchain
With growing the Hoo Smart Chain ecosystem, with the "Cosmic Origin Project" and expanding HOO token application utility, both are paving the way for the ultimate goal of HOO Smart Chain. Four months ago, Hoo Smart Chain announced to start a new journey to build the metaverse and create a visual blockchain.
Hoo Smart Chain chooses to invest on the metaverse, it seeks to differentiate itself in the highly competitive blockchain space, and embodies Hoo Smart Chain's insight into the trends of the industry. Hoo Smart Chain believes that DeFi applications on various blockchains are becoming more and more homogeneous and static, and the growth of blockchain ecosystem requires iterative innovation of underlying technology, so it has chosen to build a interconnected blockchain network.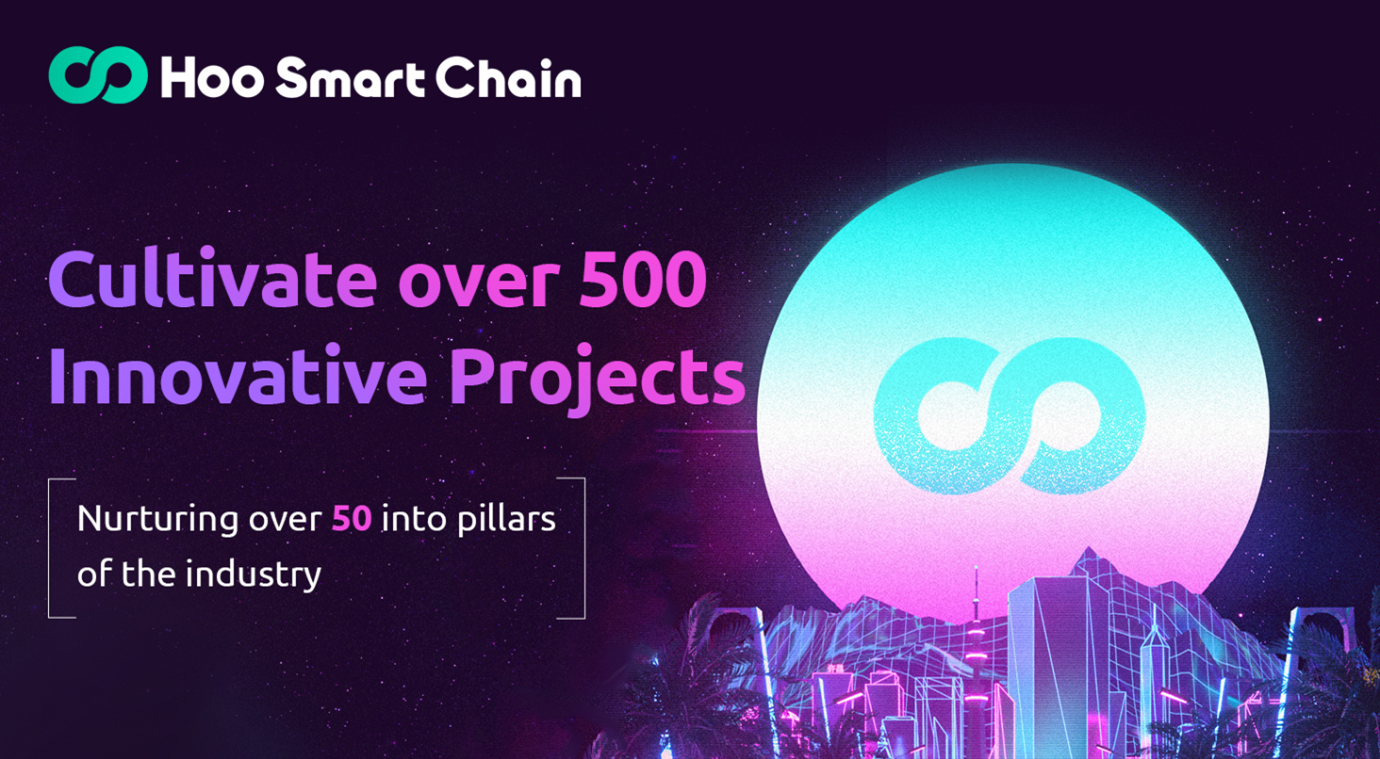 Hoo Smart Chain starts the construction of Metaverse
Hoo Smart Chain believes that the most important technology to building the metaverse is blockchain technology, because in this virtual space, everything from creation, exchange and consumption of value takes place in the digital world, where people can play, create, entertain, display, socialize and transact. Among them management of users' assets, identity, security and other crucial issues need to be solved with the help of blockchain technologies.
"Based on this goal, Hoo Smart Chain is not just following a popular trend in creating the metaverse blockchain," said Hoo Smart Chain's community leader. "Hoo Smart Chain wants to provide a decentralized settlement platform and value delivery network with transparent enforcement mechanisms to secure users' virtual assets and identities."
In accordance to this vision, Hoo Smart Chain will develop the metaverse in four stages: Visual Blockchain, 3D Blockchain, Social-Fi Interactive Blockchain and finally the metaverse. In the current visualization phase, it tries to visualize the on-chain data and animate the ecology.
In the stereoscopic, interactive and metaverse stages, Hoo Smart Chain will combine the interactions on the chain with the life trajectory of users. For example, users may enter a virtual bank in 3D environment when using loans and financial management agreements, and users may enter a virtual supermarket when purchasing goods. On this basis, the concept of SocialFi will also be introduced to enhance interconnectivity of the ecosystem. In its final phase, Hoo Smart Chain will combine innovative technologies such as VR to create a more immersive, interactive and visionary on-chain world.
The blueprint for Hoo Smart Chain metaverse blockchain is indeed intriguing. But based on the present, it still needs to undergo ecological growth, application innovation, technological breakthroughs and various other challenges. That means Hoo Smart Chain has to take several steps to realise it's vision. The Hoo Smart Chain community leader said the launch of "Cosmic Origin Project" is only a small step towards the goal of the metaverse. "It enables developers worldwide to directly experience the full range of development support by leveraging Hoo Smart Chain's infrastructure and ecological capabilities, to jointly promote the ecological prosperity of the chain in a positive-sum game.
Do you think the metaverse blueprint of Hoo Smart Chain can be realized?
This press release, which is published for information purpose only, has not been written by allcryptocurrencydaily.com.